2016-17 Classes
Here at First Unitarian we welcome every child to learn and grow. We seek to build a community that supports the questions of youth within the clarity of the young. In her book Teaching to Transgress Bell Hooks offers: "As a classroom community, our capacity to generate excitement is deeply affected by our interest in one another, in hearing one another's voices, in recognizing one another's presence." Through a diversity of ages, social conditions, class, race, and gender expression we listen to one another's stories and work to build a place where faith is lived and learned within the fabric of love and possibility.
2016-17 Classes
Children begin their day with us in the sanctuary for the 10am service .  They will leave for their classes after a story about ten minutes into the service.
---
Chalice Children (Grade PreK – 1)
UU Picture Book: Kids love hearing stories! This is a fun and friendly way to introduce our faith to young children. Each week a book illustrates an element of our Unitarian Universalist identity in an engaging way. The children will listen, learn, and then use activities to deepen their understanding.
Seekers (Grade 2-5)
Spirit of Adventure: Using teachable moments from the lives of Unitarian Universalists (UU's) each lesson uses unique themes, such as sports, medicine, architecture, science, and food to exemplify UU Identity. This is one of the most favored curricula here at First Unitarian. Sometimes younger siblings will ask to do specific activities used in this curriculum, so we know they are talked about at home. Active play, using things like circus arts, a "take apart party," obstacle course, and a treasure hunt, is also a large part of learning.
---
Junior Youth (Grade 6-8)
Neighboring Faiths/ Building Bridges: Building Bridges is a world religions program to deepen youth's understanding of the dynamic, fascinating, and varied world in which they live. It seeks to broaden their knowledge of humanity and embolden their spiritual search. Participants plan their own program by choosing which religious groups to visit and relate to their own growing faith. The course includes historical resources and tips for hosting guests, visiting other faiths, creating worship experiences and more.
Senior Youth (Grade 9-12)
Meeting once a month after services.
A Chorus of Faiths: The central feature of A Chorus of Faiths is an interfaith service project that participants coordinate, primarily outside the regular workshop time. Each workshop includes an activity to move the group forward in planning their interfaith service event. Part of a joint venture of the UUA and the Interfaith Youth Core (founded by Eboo Patel) and funded by the Shelter Rock congregation, these sessions develop UU youth as interfaith leaders. Youth explore values of service to our community and religious pluralism through stories from our sources and personal storytelling.
Youth of all ages also engage with hands-on service activities during Social Justice Sunday's.
---
OWL
Our Whole Lives helps children to gain the knowledge and skills they need to express their sexuality in life enhancing ways. This curricula is an important way for children to begin engaging what will be a lifelong process of acquiring information and forming attitudes about identity and relationship, intimacy and health.
Some of the strengths of OWL include providing accurate information about relationships, gender identity, sexual orientation, sexual health, and cultural influences on sexuality in developmentally appropriate ways. OWL is organized around the guiding values and principles of self worth, sexual health, responsibility, justice and inclusivity. The OWL program includes a parent orientation that affirms parents as their children's primary sexuality educators.
We are offering OWL for two age groups this year:
OWL 4-6 grades will be offered over four sessions during our church services tentatively:
Feb 5 / Feb 12 / Mar 5 / Mar 12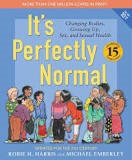 In this program participants learn about and discuss the physical and emotional changes of puberty. Participants will read It's Perfectly Normal by Robie H. Harris, and examine topics such as values and sexuality, communication and decision making.
OWL 7-9 grades will be offered in monthly sessions with two overnight classes. This course may be offered in conjunction with other area UU communities tentatively:
Oct 15-16 (overnight) / Nov 13 / Dec 11 / Jan 15 / Feb 12 / Mar 12 / Apr 2 / Apr 30 / May 20-21 (overnight)
A sexuality education program for youth that models and teaches caring, compassion, respect, and justice. A holistic program that moves beyond the intellect to address the attitudes, values, and feelings that youth have about themselves and the world. Unlike many other sexuality curricula currently available, this program is comprehensive and progressive. In an inclusive and developmentally appropriate manner, it addresses sensitive topics that are typically excluded.
Because of the sensitivity of this subject these groups are closed once the year begins. Please contact Karen Mooney, Interim Religious Education Minister if you are interested in learning more.
We hope you are able to say yes to helping our children learn about their sexuality and how it impacts the whole of their lives, self-worth and sexual health.