You know when a busy person sends you a note saying – THIS WAS FANTASTIC – there is something special being talked about. From an enthusiastic parent:
This amazing camp was life-changing for (my daughter).  She said, mom, I have found my people.  It is so hard to help our kids connect with being UU and this camp does it!   (Z) also attended and loved it too.  
The highest chances of getting in are for incoming 7th graders (current 6th graders).  Other spots open up if someone doesn't return, otherwise you  (and eventually younger sibs) are in for all 4 years.  
Registration is open now. See the brochure below, check your calendars, and go for it!
If you are not a family with 6th or 7th graders – keep your eyes open for your chance in the coming years.
Karen Mooney
Interim Religious Education Minister,
First Unitarian Church of Chicago
C : 773/241-4836
O : 773-324-4100, Ext. 15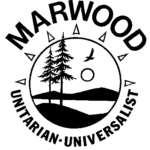 Midwest Unitarian Universalist Youth Camp
(MUUYC)
July 23 – July 29 2017
Registration Deadline: April 1, 2017
PROGRAM DESCRIPTION
Marwood, in existence for over 50 years, offers a program designed for fun and growth—not only socially, but spiritually and emotionally too. Youth soon find it is a safe and loving environment in which to grow and have fun while feeling respected by other youth and counselors alike. Diversity of looks, thoughts and ideas come to be cherished by all at Marwood.
Twelve varied classes in crafts, social awareness, sports, personal awareness, creative expression, nature awareness and more are offered. The youth select the two they wish to participate in all week.
There is a morning program each day that is led by one of the counselors. Topics for this program include a give-away, random acts of kindness, and the medicine wheel. The 4th year campers produce a "songfest" for one of these programs.  They prepare a song book with pictures from last year's camp and we all sing along.
The evening programs consist of a variety of activities including skit night, slide show, and a much-anticipated talent show!  The last evening program is the dance that follows our "formal" banquet.  At the banquet, a variety of awards are given out and we all enjoy the best meal of the week!!
Our final activity of each day is the campfire that is a wonderful time of shared emotions.  Each campfire has a theme such as "dream lights", a campfire about sharing, going into your own silent space, etc. All but the last campfire is led by the counselors with all invited to participate. The final campfire on Friday night is run by the 4th year campers, and it is where they express their final statements of their Marwood experience.
Sandwiched in-between all of this is plenty of free time so the campers can interact with each other and with the counselors on an informal basis. In fact, the counselors often feel this is the most important part of the Marwood experience where the "Marwood Spirit" can be felt and seen most readily.
MARWOOD PHILOSOPHY
Marwood might best be described as a "rites-of-passage" camp.  We strive to assist youth as they make their transition into young adults providing a "time out" and guidance for forming identity.
Critical to the success Marwood has experienced is the quality of our counselors and what they bring to the environment of the camp.  We have 16 dedicated volunteers who collectively have over 300 years of experience at this camp! We are a diverse group of adults who share a love, sensitivity and respect for the difficult struggle it is to become a "grown up" in our society.
Marwood creates a culture with values that we believe are the most important qualities and behaviors to actively demonstrate and live. These values guide and form the learning processes we develop in our courses and various camp programs. These values are those expressed in the Unitarian-Universalist covenant.
You are invited to come and join us!
This is one of the most fulfilling camping experiences available for Unitarian-Universalist youth.  A beautiful setting and an exciting, enriching program combine to make this a truly memorable growth experience for all who attend. We have room for 64 campers interested in fun, friendship and much, much more!!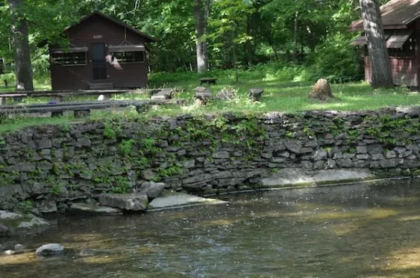 LOCATION AND AMENITIES
The camp is located at Camp Tuckabatchee in Ottawa, Illinois. The main camp area is surrounded by 150 acres of wooded hills and valleys. There are rustic cabins for sleeping (always with a counselor in each cabin) and a main lodge. A creek runs through the site and there is a swimming pool.
ELIGIBILITY
You are invited to come join us, if you will be in grades 7-8 (Fall 2017).  Marwood is designed to be a 4-year experience and your best chance to get in is the summer before 7th grade. Returning campers are guaranteed a spot at this year's camp.  Camp attendance is limited to 4 years.
DATES AND TIMES
Plan to arrive on Sunday, July 23rd., between 2pm and 3pm., Chicago time. Campers will not be able to check in before 2:00 p.m.  The friendship circle starts as soon as everyone arrives so please be on time. Campers should be picked up from camp the following Saturday, July 29 between 11:00 and 11:30 a.m. No lunch will be served.  This is Chicago time.
TRANSPORTATION
Each camper is responsible for his/her transportation to and from camp.
COST
The cost of camp is $525 which includes room and board, swimming pool, craft supplies, T-shirt and registration fees. The registration fee is refundable until June 8. Please notify the registrar if the cost of camp is prohibitive, and tuition assistance may be available.
DEADLINES
If you'd like to join us, fill out the registration form and mail it with your $200 deposit. We must receive it by April 1. Camp fills quickly and we frequently have a waiting list.
NOTIFICATION OF ACCEPTANCE
New campers will be selected by lottery (if needed) once we determine how many openings we have. You will be notified no later than April 18th as to whether we have a space for you. If we do, you will receive a registration packet. Several forms from this packet plus the balance of your fee ($325) must be returned by June 8.
GENDER IDENTITY POLICY
Marwood is a gender inclusive camp, and counselors will make every attempt to help campers feel as safe and comfortable as possible. The cabins and bathrooms at the campground are designated as male or female. Campers whose gender identity is different from the gender that they were assigned at birth will have the option to stay in a cabin, use the bathroom, and participate in activities that are consistent with their gender identity.
The Marwood Registrar must be notified of a camper's desire to utilize this option prior to camp. There will be a place to do this in the registration packet that campers receive in May. A counselor will then speak with this camper as well as the parent or guardian to discuss logistics. The parent or guardian must give their consent.
If you have any questions or would like a copy of the our full two-page policy, please contact Kate Wilford, klwplay@gmail.com or Jay Cohen, jaycohen2@gmail.com.
For more information about camp or registration, please contact:
Registrar:  Kate Wilford, klwplay@gmail.com or 708-707-0516, or
Dean:  Terry Kinsey, terrykinsey@gmail.com or 312-405-5871