Called to Love, Justice, Vitality
Rev. Susan Frederick-Gray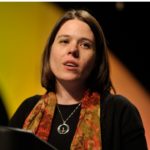 This is a defining moment. In the midst of so much challenge and heartbreak in our world; how can we show up as our bravest, boldest, most loving selves, nurturing what feeds love and justice? How is our faith calling us to respond to this moment and what do we need to be able to answer that call?
Biographical Introduction:
Susan Frederick-Gray is a candidate for President of the Unitarian Universalist Association. She currently serves as Lead Minister of the UU Congregation of Phoenix, AZ and is a life-long UU from St. Louis, MO who has provided leadership to congregations in all five regions of the UUA, including leading significant growth in the two congregations she served as settled minister. In 2011, Susan worked for the UUA to lead the vision and implementation the 2012 Justice General Assembly in Phoenix.  Susan received her M.Div. from Harvard Divinity and her B.S. in Molecular Biology from the University of Wisconsin, Madison.
On April 30, we welcome back guest pianist Marianne Parker, former music director at Second Unitarian Church of Chicago.