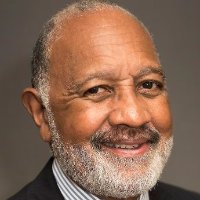 Joseph Harrington
The Paradox of Choice is a book by Barry Schwartz about how consumers make choices, and the tyranny of choice. It was also the impetus for Joe's first sermon at First Unitarian in 2006, "The Paradox of Choice and the Gift of Another Day." In Chapter 5, Schwartz makes this assertion: "Autonomy and freedom of choice are critical to our well-being, and choice is critical to freedom and autonomy." Today's sermon will explore the relationship between autonomy and freedom of choice, the external factors that can influence our choices and the connection to our well-being.
---
Like many in his generation, Joseph was a beneficiary of the civil rights movement and found his passion and life's work in the social justice arena. A native Chicagoan, raised in Woodlawn, he has worked in the fields of education, social services, mental health, healthcare and public health. He has worked for two Academic Medical Centers, a Community Hospital and served for six years as an Assistant Commissioner at the Chicago Department of Public Health. He retired in August 2017 after five years with the State Health Department as its Regional Health Officer for Cook County, where he also served as an Administrative Law Judge.
---
Musical guests
Kopano Muhammad is a gifted vocalist and has performed at First Unitarian many times in the past. She was the featured vocalist for our January 15th King Day Service and will be entering her sophomore year at Oberlin College in the Fall, where she is majoring in music.
Dr. Ronald Rembert is not only a family physician, he is also a gifted musician and no stranger to First Unitarian.  He started Anointed Sax Publishing and describes himself as a musician, produce, singer, physician from Chicago, using music to touch and encourage people to live better lives.
Olu Shakoor is also a frequent guest at First Unitarian. He is a Master African drummer and the co-founder and conductor of the African Drum Village for the Annual African Festival of the Arts. He specializes in both traditional and contemporary styles of African Drumming and excels in the Djum-Djum and Djembe Drum.