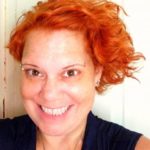 Rev. Misha Sanders
An invitation to get excited about our saving faith that calls our best selves into being while affirming that we were already whole when we got here.
Rev. Misha Sanders is mostly a mom, but also a hospital chaplain in Barrington, and an affiliated 
community minister with the UU church in Rockford. She believes that the whole world is built and rebuilt by the stories we tell ourselves and each other.
She lives in Woodstock with her teenage son, 2 fat hamsters, and 3 spoiled cats who run the show.