June 20, 2021
2:00 p.m. CT | Online Ordination Service
4:00 p.m. CT | Outdoors Receptions Begin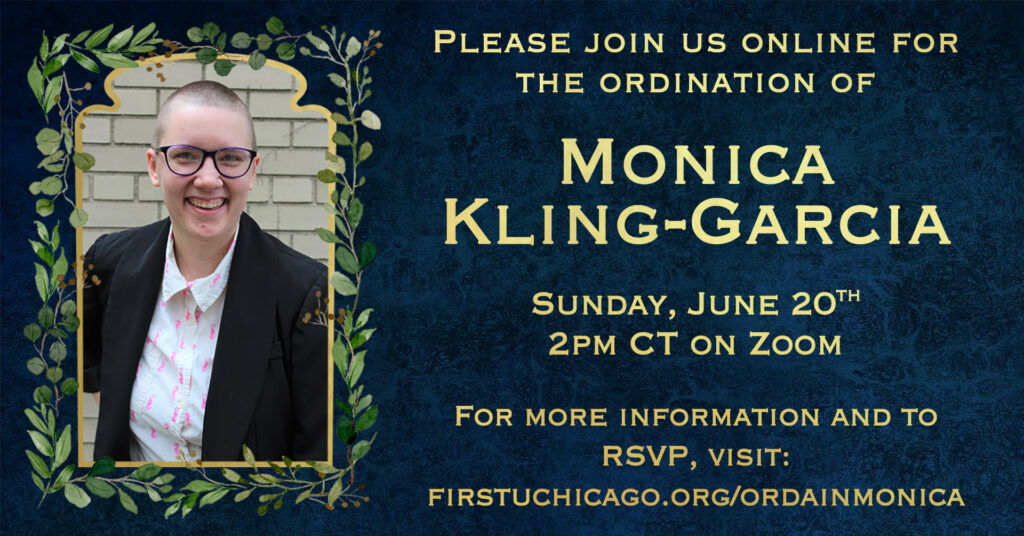 To Unitarian Universalists, ordination is one of the most important traditions of our faith. It is with great joy and reverence that the members of the First Unitarian Church of Chicago will ordain Monica Kling-Garcia as a minister, and we invite you to celebrate this momentous occasion with us!
On this webpage you will find everything you need to know about the events of the day! Should you have any questions, feel free to reach out at ordainmonica@gmail.com.
Ordination Service | 2:00 p.m. CT
In Unitarian Universalism, the power to ordain ministers belongs to the congregation, and is a powerful symbol of shared ministry and community. To keep a socially distanced service, while also fostering a spirit of connection in the congregation, the ordination will be a multi-platform service live streamed on Zoom. There will be a small group of people in the church itself representing the congregation live, and the rest of our participants will be able to participate live in the service through Zoom.
The ordination will last approximately 90 minutes and will be in lieu of the standard Sunday Service that day. You can ensure that you will be on our list for Zoom links and other information by filling out our RSVP form.
In-Person Receptions | Beginning 4:00 p.m. CT
RSVP by June 10!
Masks and RSVP are required to attend our in-person receptions. After the ordination service, join us at the church grounds for one of our outdoor and socially distanced receptions to say hello to Monica and celebrate with the congregation! After signing up using our RSVP form, you will be contacted with an assigned arrival time for your one-hour reception with light refreshments. Arrival times will be staggered to allow for social distancing, so we ask that you are attentive to your assigned arrival time to keep everyone safe!
RSVP by June 10 using our standard RSVP form, and make sure to check the "Outdoor Reception" box!
Religious Professionals
Religious Professionals of all denominations are invited to join in our Processional and Virtual Robing Room.
To be a part of the processional in the opening of the ordination service, send a headshot with your name and title/position to intern@firstuchicago.org by June 10.
The Virtual Robing Room will take place on Zoom from 1:00 – 1:30 p.m. CT as a way for colleagues to gather and share their well wishes and blessings for Monica before the ordination. To get the Zoom link for the Robing Room, check the box on the RSVP form!