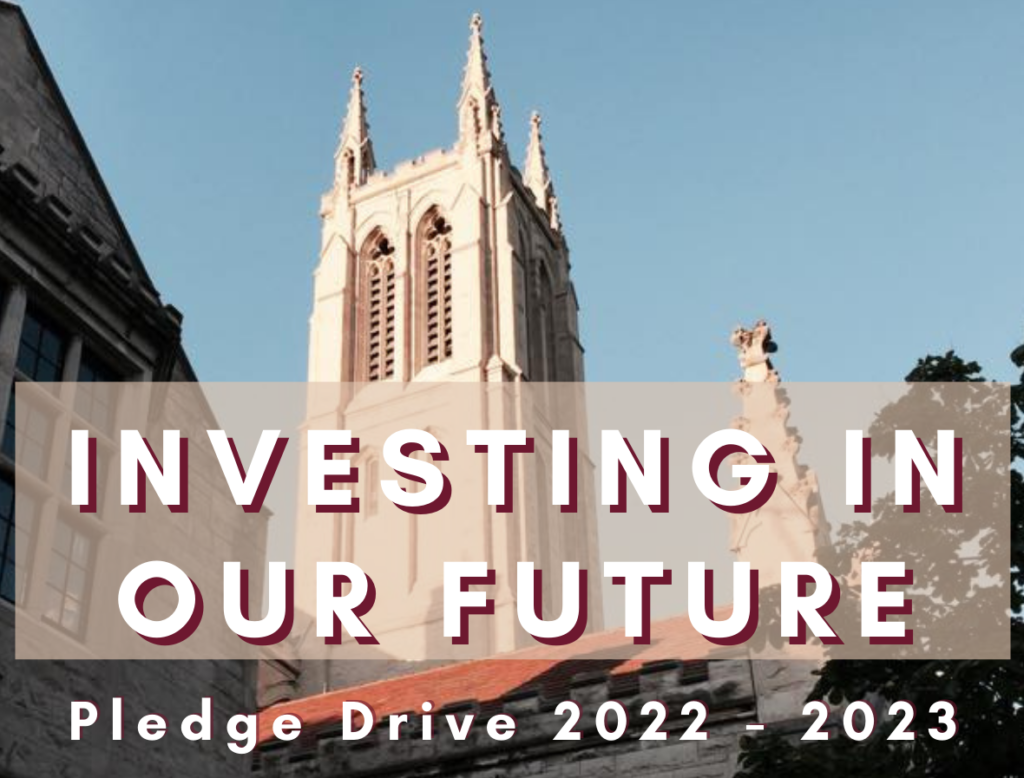 Thank you to all who have made their pledge! 

New Members—perhaps you joined too late to receive a pledge letter this year—contact the office or visit the link shown here. We need your support!

Friends—are you participating in fulfilling discussion groups, Sunday services, meeting like-minded people? We need your support too! Please contact the office or visit the link here. 

If you haven't made your pledge for the new fiscal year, which starts today (July 1), please ACT NOW. First U appreciates and needs your financial support! Make your pledge here.
---
Thanks to your steadfast support and the hard work and creativity of our ministers, staff and volunteer leadership, First Unitarian has provided—mostly virtually—worship and memorial services, religious education, First Forums and small group meetings under challenging circumstances for a 2nd year. We are delighted to begin to see more of our fellow members and friends in person over the past two months while we welcome participation on zoom.
We believe we are at a crossroads and we have an opportunity to address it.
We're realists. Our membership numbers are down for various reasons like many churches–loss due to covid, relocation and death of beloved members. We also believe that many people are seeking what First U offers—community, connection and a spiritual home—and a liberal, non-credal, religiously diverse faith experience for individuals and families. We welcome a few new visitors to First U every Sunday. How can we expand awareness of First Unitarian and engage more deeply with newcomers as well as existing members and friends?
Now is the time to expand our congregation and to do that we plan to invest in intensive, high impact growth initiatives. For that reason, the theme of this year's Annual Pledge Drive is "Investing in Our Future."

We are asking you to commit with your fellow First U members and friends to a 3-year growth strategy. Here are some highlights:

Growing First U through Music. We propose hiring four music students as section leaders to support our existing choir and help us expand the choir to a pre-pandemic number of 20-28 singers, enhancing our worship experience. Additional plans to develop a music ministry include providing musical learning and performance opportunities for youth and a venue for music teachers for instruction and performance.

Growing First U through Religious Education. We propose adding a part-time RE Assistant to handle the nuts and bolts of Sunday morning RE enabling our Director of Lifespan RE to focus on growth strategies, program development and building relationships. With a "lifespan" RE focus, we will provide an annual OWL (Our Whole Lives) program and more multigenerational learning opportunities and events. Lifespan RE will complement growing social justice initiatives including our Green Sanctuary and criminal justice work that meet the interests of many young newcomers.
Growing First U through Membership Development. We propose hiring a Membership Coordinator who will focus equally on outreach and member engagement. A Membership Coordinator will connect with networks and individuals for whom Unitarian Universalism is a good fit, and work with First U volunteers to offer more member engagement activities. We think it is clear that the congregation must grow if it is to have a future.

Three new initiatives will have a cost, added to the ongoing worship, program and building expenses in our annual operating budget. Our needs and wishes will likely outstrip our resources, and how much we can do and what we prioritize to do depends to a great extent on how much you and your fellow members and friends contribute.

We benefit from rental income, bequests and our endowment, and your board is willing to draw down on some of our resources to make a 3-year commitment to a growth strategy.

However, your pledges are the bedrock of our financial resources and our pledge base must continue to grow to sustain First U into the future. Current and future pledge income and membership are integrally connected. The strategies described above are some of the intensive, high impact actions we must take at this time to expand our membership.

Please consider how you can support your First U community and the proposed growth strategies described here. Can you stretch this year and increase your pledge amount?

We would appreciate it if you could make your pledge no later than May 15, 2022.

You have been mailed a membership pledge card which you can return by mail or in-person to the church office. You can also pledge online here.

Please contact any board member if you have questions.

Sincerely,

Margie Gonwa
2022 Annual Pledge Drive Chair and Board President

and

Board of Trustees

Tim Arehart
Mary-Clare Bietila
Amos Biggers
Ezrina Bradley
Evelyn Johnson
Richard Pardo
Cheryl Wegner

P.S. Remember, this congregation committed to the future of First Unitarian by raising an amazing $1.3 million in our recent Capital Campaign. At this time, we are being asked to commit to our future by investing in worship and programs leading to our growth.