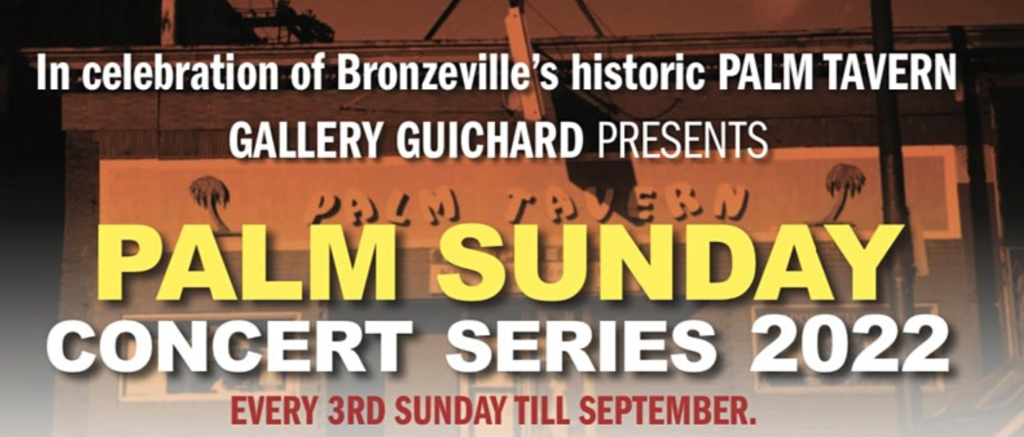 August 21: Michael Damani – Tickets Here
While not as well-known as the Harlem Renaissance in some circles, the Chicago Renaissance of the 1920s, fueled by the Great Migration, had a profound impact on the development of local and national cultural arts. Chicago was at the forefront of gospel music, the rise of urban blues, and progenitors of great jazz musicians. In 1933, Bronzeville businessman James Knight, a former Pullman car porter, opened the Palm Tavern, which he later sold to Geri Oliver in 1956. Among the marquee entertainers who frequented the Palm Tavern were Quincy Jones, Nat King Cole, Louis Armstrong, Duke Ellington, Josephine Baker, Lena Horne, Muddy Waters, Count Basie, James Brown, and Dinah Washington.

In 2020, First U Men's Group Coordinator Joe Harrington started working with Andre and Frances Guichard, owners of Gallery Guichard, to organize a series of outdoor concerts called Palm Sunday to honor and to build on the legacy of the Palm Tavern.

You can find additional information and purchase tickets here. Proceeds from Palm Sunday events will benefit the Building Community Foundation, a 501c3 organization which has supported at-risk youth and the arts since 2016.