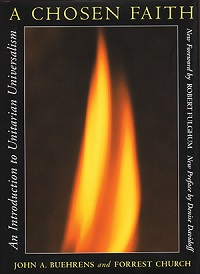 4:00 – 6:00 p.m. via Zoom
2nd and 4th Sundays through October 9
Join us to read and discuss this classic introductory text on Unitarian Universalism. An opportunity for newcomers and longtime members alike to explore or revisit the many sources of our living tradition.
Contact Director of Lifespan Religious Education Elizabeth McCreless at dre@firstuchicago.org with questions or to get a copy of the book.
Join Zoom meeting: https://us02web.zoom.us/j/87899824267 
Meeting ID: 878 9982 4267
Dial-in: 312-626-6799
Past Sessions
September 25 – Week 6 Reading
Part V, Chapters 9 and 10 (pp. 155-186)
September 11 – Week 5 Reading
Part IV, Chapters 7 and 8 (pp. 119-151)
August 28 – Week 4 Reading:
Part III, Chapters 5 and 6 (pp. 81-116)
August 14 –Week 3 Reading:
Part II, Chapters 3 and 4 (pp. 41-77)
July 24 –Week 2 Reading:
Part I, Chapters 1 and 2 (pp. 3-38)

July 10 – Week 1 Reading (optional):
Forward, Preface, & Introduction (pp. ix-xvii)