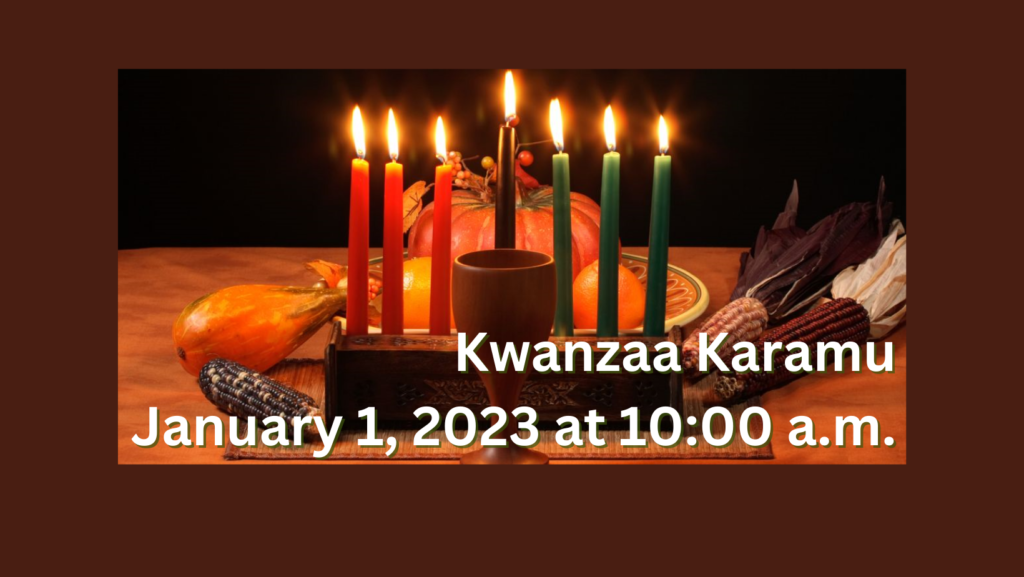 Kwanzaa (meaning "first fruits") was developed in 1966 by Dr. Maulana Ron Karenga of the University of California at Berkeley. Inspired by the harvest festivals of many African civilizations, it was established as a 7-day African American Holiday Celebration to honor the lives, contributions, love, and strength of children of African descent. It was also developed to encourage us to give thanks for the fruits of our labor as we acknowledge the blessings that we are to each other.
The Kwanzaa Karamu or "Karamu ya Kwanzaa" (Feast of First Fruits) was initiated in Chicago during a 1971 citywide movement of Pan-African organizations. In keeping with these traditions, in the spirit of Umoja (Unity), a Kwanzaa Karamu service was held at First Unitarian on New Year's Day, 2023. Attendees were invited to bring mazao (mah-ZAH- oh), meaning "crops," to share. It is designed to encourage people to re-commit to the Nguzo Saba (the 7 Principles), which should be lived throughout the entire year: unity (umoja), self-determination (kujichagulia), collective work and responsibility (ujima), cooperative economics (ujamaa), purpose (nia), creativity (kuumba), and faith (imani).


Special Guest Artists included:
Mama Edie McLoud Armstrong, a passionate bilingual storyteller and language pathologist, blending Spanish and English or Sign Language, who has performed internationally in countries such as Ghana, Togo, Benin, Mexico, India, Trinidad, South Africa and Iraq.

Justin Dillard who was discovered by Percy Julian Jr. High School choir director Barbara Suggs-Mason, and began formal lessons in his junior year through the Steckman Studio of Music and has performed with and/or received tutelage from such Jazz Greats as McCoy Tyner, Kenny Garrett, Jon Faddis, Eric Lewis, Roy Hargrove, Ornette Coleman, Willie Clayton, Herbie Hancock, Maurice Brown, Henry Grimes, Oliver Lake, Clark Terry, Wynton Marsalis, James Newton, Branford Marsalis, Ellis Marsalis, Donald Harrison, and Delfeayo Marsalis.

Meagan McNeal, who is a powerhouse singer/songwriter and recording artist from Chicago, versed in Soul, Jazz, and R&B and known for her diverse range and soulful voice. Her debut album "Mindset" was released in 2014. Gracing the stage of NBC's "The Voice" in 2017, Meagan's radiating vocals landed her on the team of Grammy Award Winning artist Jennifer Hudson. Meagan has gone on to perform throughout the USA and across the globe. She was a backing vocalist for Eminem, Common, and The O'Jaysm, and opened for artists including the Velvelettes, Dwele, and Avery Sunshine.

Joshua Mhoon, a musical prodigy featured in the Chicago Sun Times and appearing on PBS's Chicago Tonight, CBS's Someone You Should Know, Viennese National Television, Redbull TV, and The Mozart on Japanese National Television.

Olu Shakoor, a master drummer and founder and conductor of the annual African Festival of the Arts in Washington Park who specializes in traditional and contemporary styles of African Drumming.