We're highlighting members of the First Unitarian Board of Trustees so you can get to know them better! Your Board of Trustees includes Margie Gonwa, Amos Biggers, Tim Arehart, Richard Pardo, Cheryl Wegner, Ezrina Bradley, Evelyn Johnson, and Mary Clare Bietila (alternate Trustee).
Margaret Gonwa, President and Trustee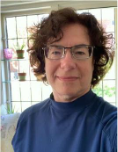 Margaret Gonwa, President of the Board of Trustees. Margie is an 18-year member of First Unitarian Church and is in a 3-year term as a Trustee. Margie and husband Hank Henriques raised Gabe and Claire Henriques, their now adult children residing in Colorado and California respectively, at First U and live in the Beverly community. Margie and Hank joined First U because it is non-credal, diverse and inclusive—and full of great people!

Over time, she has served on the RE Council, chaired the Annual Pledge Drive, served on the Capital Campaign Leadership Team, helped develop a strategic plan, facilitated small groups during the Good Relations Committee's workshops to create a new behavioral covenant, and organized nature outings to the Cook County Forest Preserves. Some of her special interests on the current board include finances, membership growth, and social justice.

Margie has had a 25+ year career in non-profit community economic development directing job training programs in manufacturing, construction, weatherization, information technology, entrepreneurship and social enterprise. Work also included managing foundation and government grants and contracts, grant writing, and workforce policy and advocacy. Currently, she provides foundation research and grant- writing as a consultant.

Other interests include travel, hiking, reading, theater, gardening, and cooking.
Amos Biggers, Vice President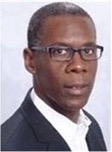 Amos and his wife Alina joined First UU as members in 2016 along with their son Alexander (Lex). As a family, they found comfort in the church's efforts to be an institution which emphasizes inclusion, diversity and justice. Amos is a sales and marketing professional in the human resources space with an emphasis in employee engagement, as well as training and development. He served two terms as alternate on the Board of Trustees before being elected to a full three-year term as a trustee in 2020. Alina is a grants and contracts professional at the University of Chicago.

Some of Amos's key interests during the current year include participating on the tech team helping to bring worship services and meetings to you via Zoom, working with the Proposed 8th Principle Task Force, increasing membership and participating in Men's Group meetings as a member.