Staff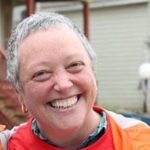 Interim Religious Education Minister Rev. Karen Mooney
After our previous RE Director Laura's departure to take a position closer to her new home, Rev. Karen is excited to sustain and build on the momentum of the program, with a special focus on engaging newcomer families.
Rev. Karen is a life-long Unitarian Universalist who learned the art of church from her very involved parents and loves that UU communities are places where you find people who are alive and seeking throughout their lives. She has worked with children teaching about justice, sexuality, and the fundamentals of our sometimes ambiguous faith — "love the questions themselves," the poet Rilke reminds. She knows that education isn't one-way: children teach us whenever we let them, and a religious education program grows both kids and teachers.
Rev. Karen brings strong UU knowledge and experience, a deep commitment to social justice and racial justice, great musical talent, as well as a professional background in project management. She has worked as a chaplain, a congregational minister, and a web platform manager. While she is with us for the year 3/4 time, she'll also work 1/4 time with the new UU Prison Ministry of Illinois initiative as they seek to bring UU values and worship to incarcerated people.
Next spring, we'll search for a permanent Director of Religious Education, but we are so delighted to have Rev. Karen here at First Unitarian for the 2016-17 year.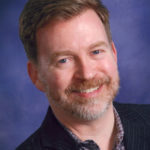 Music Director Jeff Hamrick
Jeff Hamrick has enjoyed making music in Chicago-area churches and ensembles since the early 1990s. As a vocalist, he has sung with Chicago Symphony Chorus, Music of the Baroque, and Bella Voce (formerly His Majestie's Clerkes) and numerous churches, including St. James Cathedral, Holy Name Cathedral, and Rockefeller Chapel. He is Slavic and Romance diction coach for several local choruses and worked as diction coach for The Passenger, presented by Lyric Opera of Chicago in early 2015. In late 2003 Jeff began working as pianist for Countryside Church UU in Palatine; from January 2006 until 2014, Jeff served that congregation as music director as well.
During the workweek Jeff can be found just across the Midway at the University of Chicago Press, where he works as senior manuscript editor, with a special interest in humanities, in the Journals division. He and his partner Chris Ball live with their four dogs in the Buena Park neighborhood in Uptown.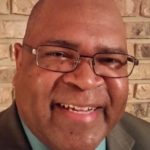 Director of Operations Michael Knowles
Michael is the former Director of Membership and Field Operations for the National Parent-Teachers Association (PTA) and serves as chairman of its Male Engagement Committee. He also serves as a spokesman for the National Center for Fathering's Watch D.O.G.S. (Dads of Great Students) program. As a YMCA director on Chicago's south side and in the south suburbs, Michael managed all operations and programs, including youth programs, child care, transitional and senior housing and adult health. He was responsible for the repurposing and repair of several outdated and underused facilities and instrumental in the development of two new YMCA senior buildings. He has assisted in the development and implementation of cultural awareness and character development programs in the Los Angeles, Cleveland, Detroit, Miami and Oakland public schools and has overseen international student exchange and leadership programs in 25 countries.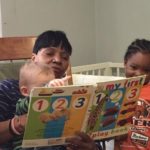 Childcare Lead Carolyn Sander
Ms. Carolyn Sander has for many years been the lead provider of nursery care for our youngest children during services and special events. She bring love, care and many years of experience working with kids to make the nursery a warm and welcoming place.