Get Your Hands Dirty
Landscaping Task Force
The Landscaping Task Force at First Unitarian has been maintained by wonderful volunteers: trimming trees, weeding, and transplanting ajuga as a ground cover to the south side of Fenn House. Richard Pardo maintains the watering system. Kent Richmond has faithfully trimmed the bushes and trees on the southeast side of First Unitarian; without his help we would look overgrown and uncared for. In keeping with the desire to show our kinship with the environment and our love for our Church, we continue this work of making the trees, bushes and plants surrounding our First Unitarian church send a welcome to all who pass by or enter our doors. Contact Irene Vitullo .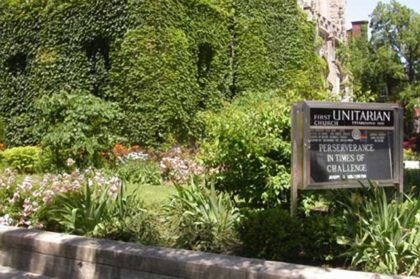 Dig It, Plant It, Fix It Days
Two days each Spring of fixing, fellowship and fun for all ages. Multi-generational, multi-skill, and all projects are planned for high visibility and satisfaction, so we can hang our hats on it. And don't forget to bring a hat! Share stewardship of the beautiful church that belongs to all of us. This is the time to make your corner shine. Look for information and signup sheets in Hull Chapel during Social Hour.Sign up for a project team you would like to join – the rest will be waiting for you. All are welcome. Guaranteed a good spirit will abide with a good night's sleep to follow. For more information, contact: David Puszkiewicz, Ivan Lappin, or Irene Vitullo.