Join a Small Group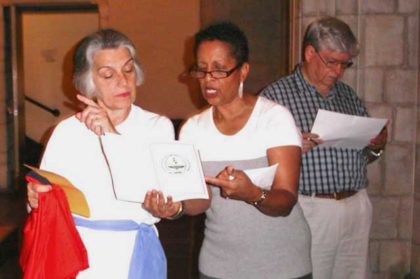 We have many small groups to offer through First U. These groups meet regularly. They provide a way to deepen your friendship with other congregation members.
First U Men's Group
Since 2004, the First U Men's Group has provided the opportunity for the men of our church to come together to enjoy each other's company; share their life experiences; help each other work through problems; and identify opportunities to support our church, its members and the broader community. Our raison d'être is to foster friendship and provide opportunities for men to become full stakeholders in the First U mission and vision. All male members and friends of First U Church age 18 and older are welcome to join us in our spiritual, social, and intellectual fellowship. For more information, please contact Joe Harrington.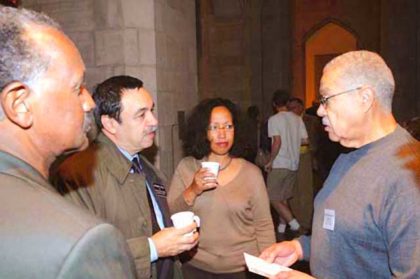 First U Humanist Group
The Humanist Group continues to be vital and stimulating for its members and guests. The participants have a broad range of worldviews and interests, and enjoy sharing their thoughts and ideas with each other on a regular basis. The group meets bimonthly, on the second and fourth Mondays of the month (7:00 p.m. in Chris Moore Parlor). Over the five years of our history, we have touched most issues related to religion, belief, disbelief, atheism, gods, and spirituality. We continue to know that each of these words, and most others within our domain, carry far too many meanings for simple conversation. We are working towards an extended focus on how we find meaning and purpose in life, and how we want to live out our time. Contact: Allen Harden.
First U Christian Group
The UU Christian Group meets once a month, generally on the second Tuesday.
The meetings are open to all church members and friends interested in exploring this root of our Unitarian Universalist faith.  For the remainder of 2016, the group will finish the eight lectures left of the video course on the New Testament.  Then it will decide whether to start a Teaching Company course on the Protestant Reformation, after viewing the opening, preliminary lecture on the course. For information, contact Finley Campbell or Phieffer Browne.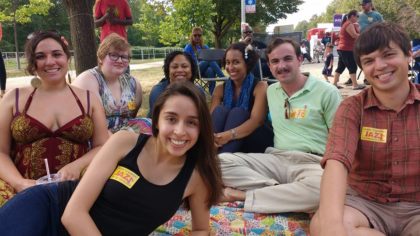 Young Adult Group
We are a group of religiously liberal young adults from Hyde Park and surrounding areas generally between the ages of 18 and 35. We are diverse in our religious backgrounds, educational backgrounds, sexual orientation, and economic circumstance. What we have in common is a wish to connect to a community which will support us along our journey of exploring faith, life, interconnectedness, and young adulthood. We welcome all.
For More Information:
Visit with us during Sunday church services. You can also check us out on Facebook (First Unitarian YACM) or email us at chicagouus+ subscribe@googlegroups.com to join our listserv. We email a few times a month about an upcoming outing or potluck. If you have a specific question, feel free to email Christine at youngadults@firstuchicago,org