Ministers
David and Teresa Schwartz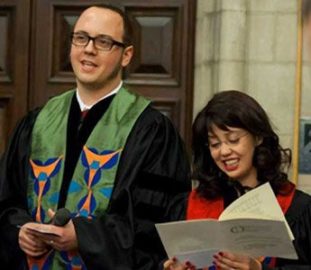 David and Teresa Schwartz became our Senior Co-Ministers on August 1, 2013.Teri and David Schwartz decided to become UU ministers some 12 years ago, while still in college–she at Brown, and he at Tufts. Subsequently, they both enrolled at Harvard Divinity School on September 11, 2001. Since graduation, they have been in ministerial formation, primarily in the Twin Cities area of Minnesota where they moved in Fall 2006 and where they have experienced the joys and challenges of starting and raising a family.
Rev. Dr. David Arksey
The concept of "Ministry at Large" refers to ministering to people outside the immediate community of a particular church. First Church has a long tradition of Ministry at Large, going back to The Rev. Robert Collyer in 1859.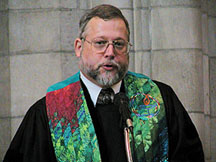 Rev. Dr. David Arksey is the third person to occupy this position, after The Rev. Robert Collyer and The Rev. George Sikes. His particular area of focus is pastoral care and counseling with families, couples and individuals in both short and long-term therapy. He is currently on the staff of Counseling Ministries, a group pastoral counseling practice with several offices in the Chicago area. In addition he is a former Adjunct Faculty member at Meadville/Lombard Theological School and formerly on the Supervising Faculty of The Family Institute.