Ministers
David and Teresa Schwartz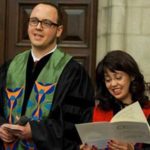 David and Teresa Schwartz have been our Senior Co-Ministers since 2013. They work for a vision of church in which inner growth and development goes hand in hand with work for justice in the world. They are here to build a church where each person who comes on a Sunday morning needing relief from the whirlwind of life and shelter from the storm can rest and recharge. They are here to build a church where conscience is honed and we remember our deep values. And they are here to build a church for the future – that we take this beautiful old place and rebuild it for the generations to come.
---
Rev. Dr. David Arksey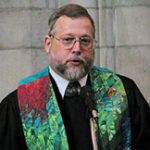 The concept of "Ministry at Large" refers to ministering to people outside the immediate community of a particular church. First Church has a long tradition of Ministry at Large, going back to The Rev. Robert Collyer in 1859. Rev. Dr. David Arksey is the third person to occupy this position, after The Rev. Robert Collyer and The Rev. George Sikes. His particular area of focus is pastoral care and counseling with families, couples and individuals in both short and long-term therapy. He is currently on the staff of Counseling Ministries, a group pastoral counseling practice with several offices in the Chicago area. In addition he is a former Adjunct Faculty member at Meadville/Lombard Theological School and formerly on the Supervising Faculty of The Family Institute.
---
Thom Thomas
First U is a teaching congregation thanks to the vision of church member Ken Schug, who made a generous estate donation to the church in 2013. Ken was committed to multiracial unity and equity in education. In 2017 the Schug Teaching Congregation program was launched and we welcomed our new ministry student, Thom Thomas. Thom will complete a two-year, part-time learning experience as part of his Master of Divinity program at Meadville Lombard Theological School, the UU seminary here in Chicago. During his first year, Thom will focus on observational learning, while continuing full-time academic and practical ministry arts classes, as well as weekly meetings with Revs. Teri and David for supervision, theological reflection, and coaching. In his second year, his title will change to "intern" to reflect the increased leadership role he will take on in the church.