We're highlighting members of the First Unitarian Board of Trustees so you can get to know them better! Your Board of Trustees includes Margie Gonwa, Amos Biggers, Tim Arehart, Richard Pardo, Cheryl Wegner, Ezrina Bradley, Evelyn Johnson, and Mary Clare Bietila (alternate Trustee).
Evelyn Johnson, Trustee (completing the final year of the term of Grace Latibeaudiere Williams)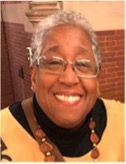 Evelyn started her spiritual journey at First Unitarian Church when she was sixteen years old in 1964. However, she didn't sign the membership book until 1983. She always considered First U home, but making a commitment was a different kettle of fish. When she got married, and she put her first son in a Catholic school, she made the decision that First U was where she wanted her children to get their moral and ethical values – so she taught Religious Education, served on the RE. Council, the Crypt Committee, the Board of Trustees, the Search Committee (which brought the Rev. Nina Grey to our church), the Committee on Ministry, the Choir, Music and Worship Sub-Committee and Pastoral Care.

She also served as a representative to the Chicago Area UU Caucus, and later served eight years on the Midwest Regional Sub-Committee on Candidacy. She, along with Madeira Myrieckes and Cindy Pardo, and later Cheryl Wegner, organized the annual Talent Auction (one of our church's favorite fundraisers).

In 2007, she took over as Parish Clerk, a position she continues to hold.

Currently, in addition to serving on the Board of Trustees, Evelyn is on the 8th Principle Task Force, and with Barbara Randolph co-designed and co-teaches a new Adult Education course: "Current Perspectives on Race." She continues to provide Pastoral Care.
Richard Pardo, Trustee

Richard Pardo has been a member of First Unitarian Church since about 1990. He began attending when his eldest stepdaughter was planning her wedding, during the era of Tom Chulak. Over the years he has served in many capacities, including Board Chair and chairing the Ministerial Search Committee that recommended Nina Grey as Senior Minister, but he has served longest in the Choir and on the Property Committee. Now with the death of his wife, Cindy, and the conclusion of the building projects associated with the Capital Campaign, he is happy to return to the Board.

As a new member of the Board, he is eager to explore ways to keep First U vital and at the forefront of religious life in Chicago. That means supporting many aspects of religious view, but for himself, especially, the Humanist (non-theist) perspective. He is working to make First U a vital force for all, and a welcoming institution to anyone who comes to First U. His current emphasis is the revitalization of Green Sanctuary activity, and making First Unitarian a leader in addressing Global Warming in the area.