Years ago, Cheryl took an online test entitled "What is Your Religion?" It said she was 100% Unitarian universalist and 90% Neopagan. She tried them both and liked them both. Cheryl has been a member of First Unitarian since 2004; both of her children attended the RE program.
Over the years, she has volunteered in various ways. Recently, she has been attending the UU Christian group (though not as a Christian; long story), served on the Adult Religious Education Committee, organized the annual auction for a while (with a lot of help), and served as Program Council co-chair for a few years. Most recently, she has been on the Board and acts as one of the Zoom hosts on Sunday morning. Her primary interests as a Board member are Adult RE, including First Forums, and Membership.
In her other life, Cheryl is a librarian at the Newberry Library and will soon be an empty nester. Since COVID started, she's also been going to 2nd Unitarian to attend rituals with their CUUPs group, Covenant of Earth and Sky.
Mary-Clare Bietila, Alternate Trustee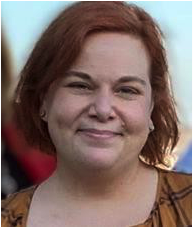 Mary-Clare joined First Unitarian in 2016 after being a visiting friend for five years. Before moving to Chicago in 2010 she and her family lived in Northern Virginia and attended All Souls in DC. Mary-Clare previously served as the RE Council Chair and on the Communications committee. She enjoys helping with Sunday service and currently serves on the 8th Principle Taskforce and is an active Circle Keeper. As an educator she develops programs with healthcare companies & nonprofits to improve the patient experience. Her perspective as a two-time leukemia & stem cell transplant survivor informs her advocacy. She enjoys writing, making jewelry, cooking, and telling stories.