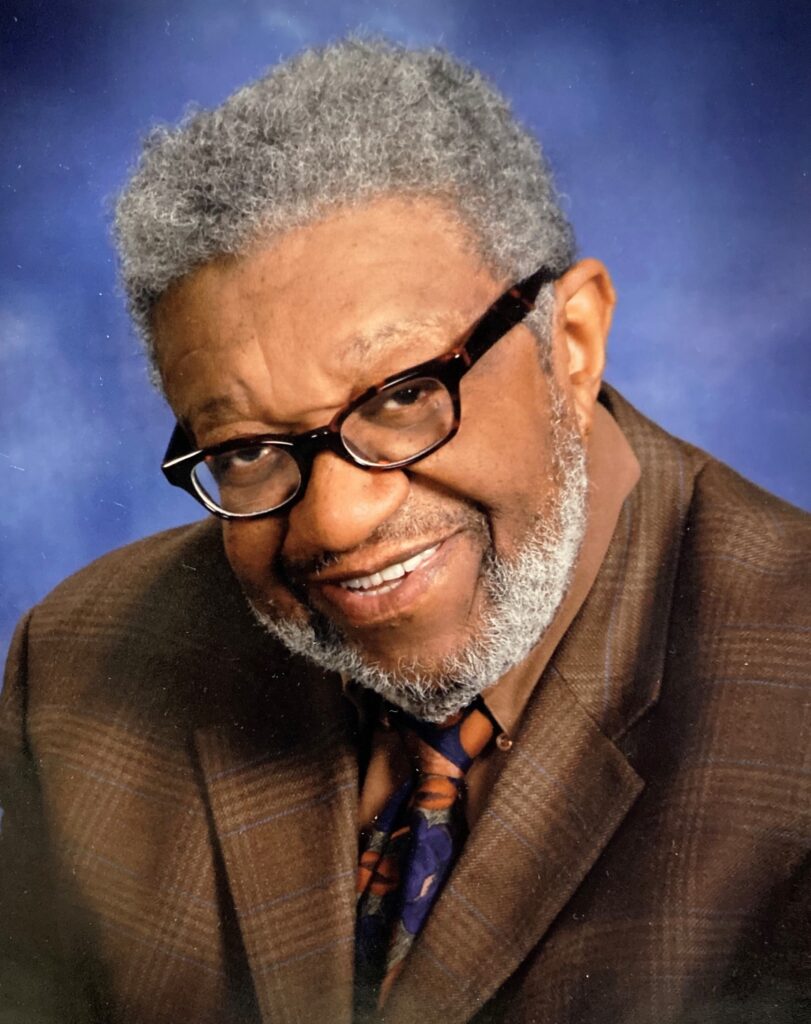 On the evening of August 18, Rev. Dr. Finley C. Campbell passed away peacefully at his home in Hyde Park, Chicago, surrounded by family and friends. He is survived by wife Roberta (Bobbi); children Phillip, Paulette, and David; co-children Kathi and Mark; grandchildren Taylor, Bryanna, Lya, Lanny, Laïssa, and Anastasia.
Finley was born in Anderson, South Carolina, on September 23, 1934. When he was 8, his family moved to Detroit, where he lived until 1952. Finley studied English and American Literature at Morehouse College in Atlanta from 1952 – 1958. In 1959, while earning his M.A. at Atlanta University, Finley spent a year studying French at the Sorbonne University in Paris, where he met his first wife Liliane, who lived in Geneva, Switzerland. After their marriage, she had to "pass as Black" for them to be able to live together legally in Georgia.
In 1961 he was ordained as a Baptist minister. In 1960 he started teaching at Morehouse College and became active in the Civil Rights movement after the murder of Rev. Martin Luther King, Jr., in 1968. In 1969 he moved his family to Crawfordsville, Indiana, where he taught at Wabash College. He received a Ph.D with honors in English Literature from the University of Chicago in 1969, where John Hope Franklin helped supervise his dissertation.
Finley was a co-founder of the InterNational Committee Against Racism. In 1972 he moved to Madison, Wisconsin, where he organized both the Black Studies department as well as a chapter of InCAR. In 1977 he moved to Chicago to work with InCAR. His teaching positions in Chicago included UIC and DeVry. In 1971 he married his second wife, Vicky. He married Bobbi, his current wife, in 1986. They both joined the First Unitarian Church in Hyde Park, Chicago in 1992.
Finley was influential in the church, joining the Social Justice Council, the Racial Justice Task Force, being very active in the Men's Group, the Global Studies discussion group, and as a member of the church's board of trustees. For many years he taught "The Nature of Racism" at the church, examining a different aspect of institutional racism each year. More recently he founded the Unitarian Universalist Multiracial Unity Action Council.
Finley's principled anti-racism, so thoroughly uncompromising, led him to an understanding that is still not grasped by many people: that racism in many forms globally is the obstacle that holds back all social progress. That the majority of people, working class people, from all racial and ethnic groups, are harmed by this division, and that it is foolish and dangerous to blame so-called "white" people as a whole for these problems. He fought for multi-racial unity against racism and all other forms of economic, political, social, and cultural discrimination. His work bore fruit, not just in UUMUAC, but in the tens of thousands who have been directly and indirectly influenced by his work and who, in turn, will carry that forward. He leaves a hole in the hearts and minds of all who knew him.
Finley's dissertation, The Bloody Chasms: A Descriptive Analysis of Reconstruction in American Literature 1865-1885, will be published soon by Dorrance Publishing. In lieu of flowers, donations can be made to UUMUAC (Box 267, 1448 E. 52nd St., Chicago IL 60615) and to a scholarship fund in Finley's name for literature students pursuing topics of multi-racial unity at Wabash College (301 W Wabash Ave, Crawfordsville IN 47933).