Social Justice
Welcome! The Social Justice Council welcomes all members and friends of the church to participate in the activities of our many active groups focusing on Social Justice issues. You may find yourself joining an existing group or task force, forming a new one, sponsoring a special social justice event, leading an action, connecting us with other social justice groups in the larger world, or volunteering to assist in church activities carried out by the Council.
Social Justice groups and task forces are open to members of the wider community and frequently collaborate with other groups. Groups and task forces can be formed and disbanded, as conditions, people, and interests change. Want to know more? Please contact Andrea at afreerksen (at) gmail.com or Evan at efreund (at) chicagobooth.edu.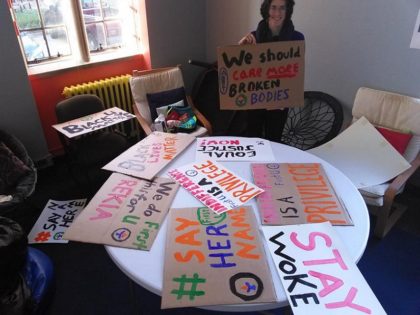 Currently active groups:
Newly forming groups:
Looking for new leadership and direction
The Refugee Task Force worked extensively in past years. Let us know if this is an area of interest for you.
---
First Unitarian has been active in Social Justice for over 175 years. Since its founding in 1836, our "First Church" has been active in serving community needs since its founding in 1836 (examples include during the Civil War, after the Chicago Fire, and working on the city's first soup kitchen, and Urban Renewal in the 1950s) and the tradition continues today.
The central purpose of the Social Justice Council (SJC) is stated in our Unison Affirmation, which is recited at each Sunday service: "Love is the spirit of this church, and service is its law." The SJC is here to provide a focal point for service – to our congregation and to the community. All are welcome to participate at any level: your help is needed to make our church, our community, our state, our nation, and our world a better place.
The Social Justice Council holds regular monthly meetings, and:
Coordinates the SJC First Forums, held on the third Sunday of most months.
Organizes a social justice film series, typically shown in evening on the third Friday of the month.
Holds four special collections in each church year, to benefit a social justice cause of special interest. (In addition to our twice-monthly give away the collection program.)
Organizes or co-sponsors community forums on social justice matters.
Meeting minutes can be found under Monthly Reports.